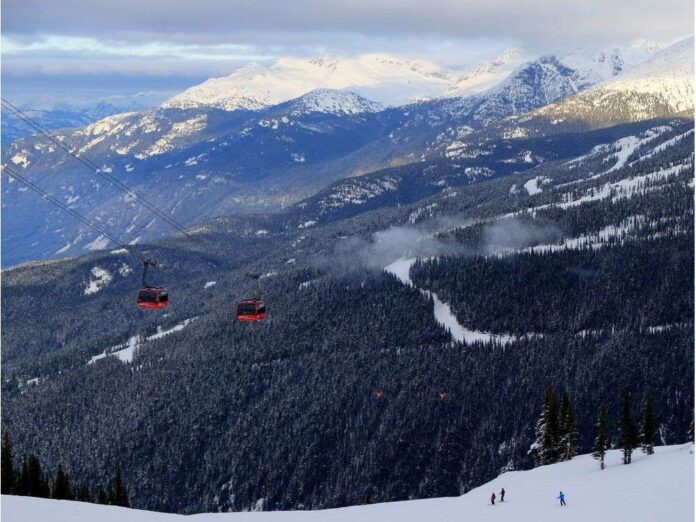 After two avalanche fatalities in two days, Whistler RCMP is warning skiers and snowboarders to stay out of the area's unstable backcountry.
A snowboarder was killed in an avalanche near Brandywine Bowl around 2 p.m. on Saturday.
The RCMP say a group of three people were caught in the avalanche and one was reported missing.
The body of the missing snowboarder, a 45-year-old local man, was found following a short search that involved the Whistler Search and Rescue Society.
Meanwhile, a skier was killed Friday afternoon after three people were swept up by an avalanche in the Poop Chutes off Blackcomb Glacier.
"Three people were located: one was located with injuries, one was uninjured, and unfortunately one was pronounced deceased by a doctor in the area," Whistler RCMP said in a release.
No names have been released.
Police and rescue crews also responded to two reports of missing skiers on Thursday, one in Garibaldi Park and the other near Elfin Lakes, that resulted in injuries.
Whistler RCMP Sgt. Sascha Banks says with the snowpack being unstable and subject to high avalanche risk, now is not the time to be touring the Sea To Sky backcountry.
"Four serious Search and Rescue calls in the last three days, two of them fatal, and a multitude of serious injuries," said Banks. "The calls speak for themselves … the backcountry in the Sea to Sky is not stable at the moment. It's time to wait and postpone your touring trip here for another time. This is hard on all of us: search teams, bystanders, police, and most importantly the loved ones of those who have died and been injured. Their stories have valuable lessons of which we all need to learn from."
Avalanche Canada, in its avalanche forecast , lists the current probability of an avalanche in the Sea To Sky area as "likely."
"A bit of new snow and shifting winds will feed into existing wind slab problems formed in response to recent outflow winds. Especially new but also recent slabs are likely to be sensitive to human triggering on Sunday. This is an all aspects avalanche problem," the agency said.
Source: VANCOUVER SUN