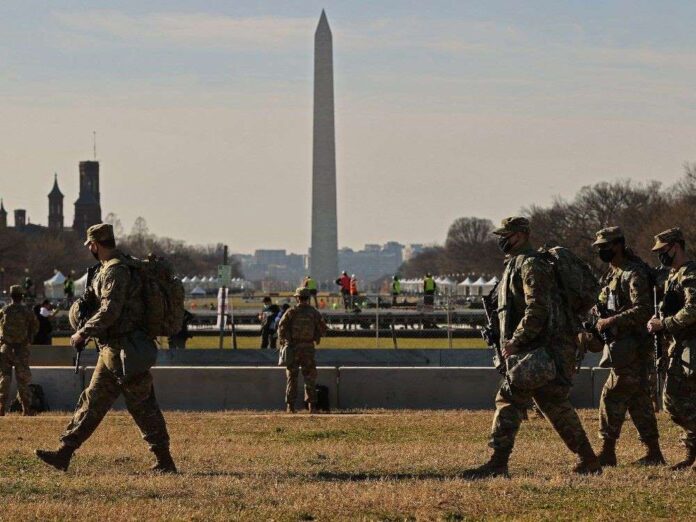 If the 22-year-old Canadian man thought his border crossing into Detroit would be routine, he was sorely mistaken.
First the driver was directed into secondary inspection at the Ambassador Bridge entry point, and then interviewed by the U.S. Customs and Border Protection's "tactical terrorism response team."
What they found was troubling: an assault rifle and two other guns, plus extremist white-supremacy material on his cellphone, according to a Federal Bureau of Investigation affidavit that came to light recently.
Before sending the traveller identified as "E.G." back to Canada, the border officers concluded he was part of a cell in the planning stages of an extremist attack.
Indeed, further investigation of the man's teenage contact in Dublin, Ohio, uncovered a plot to disable chunks of the American electricity grid, the conspirators vowing to die for their cause, the affidavit says.
The group was to be "operational" as soon as this past November, in case Donald Trump lost the U.S. presidential election, according to the document, which was inadvertently unsealed and obtained by The Associated Press last month, before being put under wraps again.
The conspiracy appears to have popped onto law-enforcement radar thanks to that ill-fated border crossing in Michigan.
The affair marks the second time in the last year that Canadians have been accused by U.S. police of associating with far-right terrorists there.
E.G. tried to get into the U.S. in October 2019. Former army reservist Patrik Mathews of Winnipeg crossed the border a few months earlier, allegedly joining up with members of the Base, a white-supremacist group bent on precipitating a race war. Mathews faces numerous charges and has been in custody since his arrest early last year.
It's unclear whether any charges have been laid in the E.G. episode.
The U.S. Attorney's office in southern Ohio, which is overseeing the case, could not be reached for comment Thursday, but previously told the National Post it could provide no information about the matter as there were no publicly filed documents.
Asked if Canadian police are looking at E.G., RCMP spokeswoman Robin Percival said the force works closely with its international partners, but does not comment on investigations "by other countries."
Barbara Perry, an expert on extremism at Ontario Tech University, said the case underscores how violent far-right groups have extended their tentacles into Canada, helped by the Internet.
"It was chilling," she said of the FBI affidavit. "There are connections between the Canadian and American movements because so much of their activity is online. So those borders mean nothing … It really is a global movement."
The affidavit, filed last March in U.S. federal court in Wisconsin, supported an application for a search warrant.
It says officers at the U.S. border found an AR15 assault rifle, a high-volume shotgun and a pistol in E.G.'s vehicle, though all had U.S. permits. He said he was planning to visit friends Natalia in Tennessee and Chris in Ohio.
On his phone, they found multiple images of Nazi, white power and anti-LGBTQ propaganda, said the affidavit. Some of it appeared to evoke the Atomwaffen Division, a neo-Nazi terrorist organization founded in the southern U.S.
Further investigation indicated that he and Chris, who was just 17, had known each other online for about two months. It appeared to be a recruitment relationship, where the Canadian was trying to "suggest his bonafides" for joining the group, wrote FBI special agent Tiffany Burns. E.G. said at one point he was Italian, but that "they were fascists."
Chris later told investigators he thought E.G. might be autistic, as he was "so detailed by nature and very focused on rules."
In a series of texts, the pair discussed taking out student loans to buy a bus and convert it into a motor home. "If we aren't going to be alive to pay it back, it's free money," Chris exclaimed at one point.
When Chris said he didn't like his Mexican stepmother, the Canadian suggested they "go siege on her," an apparent reference to the book Siege , in which neo-Nazi author James Mason urges followers to commit acts of violence to destabilize the system, according to the affidavit. The book was discussed by the duo and images of it appeared in their texts.
Meanwhile, a former white supremacist acting as an undercover source for the bureau detailed Chris's plans with other collaborators.
He wanted to create neo-Nazi cells across the U.S. to commit acts of violence, becoming operational by 2024 in the belief the Democratic party would win the U.S. election that year. But he said the timeline would be accelerated if Trump lost the 2020 race, alleged the affidavit.
In late 2019, Chris began discussing a plan, which he dubbed "Lights Out," to impose a large-scale power outage by firing rifle rounds into electrical sub-stations.
"Leaving the power off would wake people up to the harsh reality of life by wreaking havoc across the nation," another member of the group told the source.
The same person predicted their efforts would end violently.
"I can say with absolute certainty that I will die for this effort. I swear it on my life," the FBI's source quoted him as saying.
"I can say the same," echoed Chris, Canadian E.G.'s friend.
Source: National Post