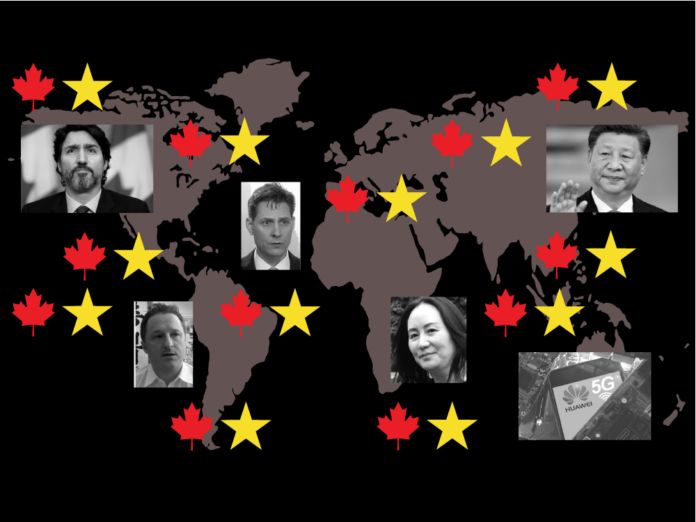 Dominic Barton, Canada's ambassador to China, last May travelled to one of its tech hubs, Shenzhen, to express gratitude to BGI Group, a gene-sequencing company that also administers a growing genomic database.
With the coronavirus pandemic raging in Canada, the Sinai Health System in Toronto was set to receive what Barton characterized as a "generous donation" from BGI's foundation: an "MGISP-960 automated viral RNA extraction and sample preparation robot," as well as other lab equipment, ostensibly for rapid COVID-19 testing.
In the United States, however, according to widespread news coverage and publicly available U.S. government documents, national security officials and the Federal Bureau of Investigation had already warned that BGI might be taking advantage of the pandemic to expand its business reach, and the company had a history of misusing personal data.
The U.S. Commerce Department in July then sanctioned two BGI subsidiaries, saying they provided technology to conduct genetic analyses as part of the repression of Uyghurs and Muslim minorities in Xianjiang, China.
That Canada's ambassador to China would embrace donations of medical equipment — even as such equipment raised security questions in the U.S. — from a company later implicated in human rights abuses in Xinjiang, which the federal government as well as Parliament have condemned, shows how this country's relationship with China is evolving in unpredictable, seemingly irreconcilable ways.
"I think there's a clear tension in Canadian policy on China, and it's likely to persist," said Wesley Wark, a former national security adviser in Canada who is now a senior fellow at the Centre for International Governance Innovation (CIGI).
At the core of the issue is how Canada should engage as China's economic and technological clout continues to grow. The coronavirus trampled economic growth in 2020, but China emerged as the only major economy to increase its gross domestic product, growing by 2.3 per cent, and accounting for 14.3 per cent of global trade, according to Rosenberg Research and Associates.
Many business leaders and politicians believe China's unstoppable growth offers too many opportunities to ignore and is key to breaking Canada's reliance on U.S. trade, but that might open the door for more Chinese activity here as well and that country's growing clout worldwide has raised concerns about its willingness to break international norms and its chequered track record on human rights.
Last week, for example, the Canadian government announced new measures to address human rights abuses in Xinjiang, including claims that ethnic Muslim minorities there are subject to "repressive surveillance, mass arbitrary detention, torture and mistreatment, (and) forced labour."
Many also believe China's detention of two Canadian citizens, Michael Spavor and Michael Kovrig, in an apparent act of retaliation for Canada's detention of Huawei Technologies Co. Ltd.'s chief financial officer Meng Wanzhou on a U.S. extradition request, has shown the extent to which China is willing to upend the international order to protect what it views as its economic interests.
A review of trade data and foreign direct investment policy lays bare the tensions and inconsistencies in Canada's relationship with China.
In 2020, even as diplomatic tensions between the two countries rose and Canada's overall economy contracted, imports from China bucked the trend and grew by 0.8 per cent through November, according to the latest data available from Statistics Canada. And Canada's exports to China grew by 7.5 per cent through November, although the overall value, around $22.5 billion, remains far below the $69.5 billion in imports from that country.
Furthermore, China is Canada's second-largest trading partner next to the U.S., and followed by the United Kingdom, Mexico and Japan.
"There's the security picture and there's the economic opportunity picture," Wark said, "and the challenge for the Canadian government is how to make decisions based on the combination of those factors. I think it's inherently complex."
For one thing, security and business concerns are intertwined and Canada is often dependent on China in a way that China isn't on Canada.
For example, Canada in April started to import increasing amounts of personal protective equipment from China as the pandemic took hold because it doesn't produce enough at home.
The value of masks, gloves, disinfectants and other medical equipment imported from China jumped 630 per cent to $949 million in May from $129 million in March, according to data from Statistics Canada that the Financial Post obtained and analyzed.
In June, PPE imports from China rose again to $1.1 billion, representing 17 per cent of the total imports from China. In the same month in 2019, PPE accounted for just three per cent of total imports.
Canada needed those supplies, yet the federal government's security concerns about China were evident in December when it rejected Chinese state-owned enterprise Shandong Gold Mining's proposed $230-million takeover of TMAC Resources Inc., which operates a gold mine in western Nunavut.
The Ministry of Innovation, Science and Economic Development cited national security concerns in rejecting the deal without specifying exactly what those concerns are.
The Great Rethink: Why Canada needs to return to its 'honest broker' role in world affairs
The Great Rethink: Cash is no longer king and the transition is going to be a high-stakes affair
The Great Rethink: It's time to reassess how our provinces manage natural resource wealth
In May 2019, however, Mike Pompeo, then U.S. secretary of state, warned in a speech given to the eight-nation Arctic Council in Finland that even a Chinese civilian presence in the Arctic could create a national security threat.
"China could use its civilian research presence in the Arctic to strengthen its military presence, including deployment of submarines to the region as a deterrent against nuclear attack," he said.
After Shandong's proposed takeover of TMAC collapsed, China's embassy in Ottawa said the rejection amounted to "politicization of normal economic cooperation" between the two countries, and warned that "political interference with the excuse of national security is wrong."
David Mulroney, Canada's former ambassador to China, who supported the government's decision to reject the takeover, said the security concerns about TMAC were general.
"Just as it's dominating the South China Sea," he said, "it will seek to have a degree of agency in the Arctic that won't be in our interests."
The Arctic waters are increasingly navigable, and the number of voyages through federally monitored waters has topped 300 in recent years, from around 100 in 2009, according to data from Fisheries and Oceans Canada.
Of course, China already has a presence in the Canadian Arctic. MMG Ltd., also a Chinese state-owned enterprise, has controlled the rights to an undeveloped zinc and copper deposit in Nunavut's Izok Lake and High Lake area since 2009.
No mine has been built, in part, because it is prohibitively expensive to transport bulk metals from such a remote location. However, the proposed Grays Bay Road and Port Project, if constructed at an estimated cost of more than $500 million, would pass near the mine site, potentially connecting it to a deepwater port on Coronation Gulf.
One mining executive, speaking on background, said the 227-kilometre road, if built, would likely spur mineral exploration because it would create a means to bring bulk metal deposits to market.
"The thing is the economic rationale around that road is really strong," the executive said, but added that the rejection of Shandong Gold's takeover of TMAC creates questions about whether the federal government would fund the road as long as MMC controls property nearby. Doing so would allow the Chinese government to establish a presence in the Canadian Arctic.
Wark, the security expert at CIGI, noted that the Liberal government last year announced it was revamping its foreign direct investment policy. In April, the Ministry of Innovation, Science and Economic Development Canada said it would subject certain transactions to "enhanced scrutiny" under the Investment Canada Act.
"Some investments into Canada by state-owned enterprises may be motivated by non-commercial imperatives that could harm Canada's economic or national security interests, a risk that is amplified in the current (pandemic)," a press release noted.
Wark said it was hard to pinpoint an exact national security threat in the proposed TMAC deal, but he guessed it was related to Shandong being a state-owned enterprise.
There are growing concerns about Chinese investment in other parts of Canada, too.
In December, a community group in Stratford, Ont., staged a protest and wrote an open letter to the Ministry of Science, Innovation and Economic Development suggesting that a Chinese-owned company proposing to build a $400-million glass factory in the town threatens national security.
The worries tie into a broader backlash against China that has followed the detention of the "two Michaels" for more than two years.
Cyndee Todgham Cherniak, a trade lawyer in Toronto, said that concern about human rights abuses in China has forced her to review her practice, adding that she will no longer represent the Chinese government in anti-dumping cases, and has curtailed her representation of Chinese manufacturers.
"I used to travel to China," she said. "But I won't anymore. It's a matter of personal safety. It's no longer as stable a place to do business."
Todgham Cherniak also criticized the federal government for warning Canadians not to do business with companies connected to the persecution of ethnic minorities in Xinjiang without offering any help on how to avoid that situation.
Most Canadian business owners have no way of knowing or even figuring out which entities are involved in possible human rights abuses of Uyghurs, so there needs to be more official guidance, she said.
The federal Liberals last week announced "a comprehensive approach to defending the rights of Uyghurs and other ethnic minorities" so that Canadian companies are not unknowingly complicit in the repression.
The government listed a series of measures including a "Xinjiang Integrity Declaration for Canadian companies," and new business advice on dealing with Xinjiang-related entities.
It's possible the directive will put BGI back into the spotlight after its donation of medical equipment to Sinai Health barely caused a ripple last year.
Previously known as the Beijing Genomics Institute, it's a private company, but used a loan from the Chinese government to establish and administer the China National Gene Bank, one of the world's largest gene databases.
In a press release, the company said the medical equipment it donated to Sinai Health is part of "BGI's testing workflow approved for use by Health Canada" and could increase COVID-19 testing at Sinai by as many as 2,000 samples per day. A representative for BGI in Canada did not respond to requests for comment.
The company has also denied allegations, levelled by the U.S. Department of Commerce, that its subsidiaries, Beijing Liuhe BGI and Xinjiang Silk Road BGI, participated in involuntary genetic analyses of Uyghur and ethnic minorities in Xinjiang.
In a press release, it said Beijing Liuhe BGI never collected "personally identifiable information" or violated anyone's privacy or human rights. Xinjiang Silk Road BGI was formed in 2016, but the business did not move forward, it said.
BGI has a well-established presence in Canada, including a genomic sequencing laboratory in Montreal since 2019, as well as an outpost for its branch that manufactures and services gene sequencers, according to press releases on its website.
The company has said its relationship with Sinai Health dates to 2017, and includes a collaboration on a biomarker study with the Lunenfeld-Tanenbaum Research Institute for preterm birth risk, which was funded by Genome Canada, a government-funded non-profits that invests in genomic technologies.
Barton did not respond to requests for comment about the U.S. Commerce Department's allegations against the BGI's subsidiaries, or questions about its handling of data, nor did Ontario Premier Doug Ford or the Parliamentary representative, Norman Miller, who also expressed thanks to BGI in May for the donation to Sinai, according to a BGI press release.
Sinai Health also declined to comment on BGI's alleged role in Xinjiang, or security risks tied to its operations and equipment, but released a statement expressing gratitude for the donated equipment and its role in COVID-19 testing.
To be clear, no one has alleged that BGI is improperly collecting genetic information in Canada, but Bev Heim-Myers, chair of the Canadian Coalition for Genetic Fairness, said the potential for abuse of genetic information is real.
In Canada, it is a criminal offence to collect genetic information, including RNA (ribonucleic acid) data, without written consent, she said.
Heim-Myers said awareness about the importance of protecting genetic information privacy would continue to grow, in much the same way that Canadians have become more concerned about large tech companies collecting their personal data.
"People should care," she said, adding genetic data is "highly personal information" that could be abused by insurance companies or employers to discriminate against people.
Charles Burton, a former Canadian diplomat to China and senior fellow at the Macdonald-Laurier Institute, said he believes Canada and other western nations are on the precipice of a cold war with China.
He pointed to China's retaliatory measures earlier this year against Australian products, including its refusal to buy coal and wine, after Australia demanded an international investigation into the origins and lessons learned from the coronavirus pandemic, which started in Wuhan.
Burton said he believes western nations need to form trading alliances to prevent China from weaponizing trade.
By 2028, China is predicted to overtake the U.S. as the world's largest economy, according to the U.K.-based Centre for Economics and Business Research. That's five years earlier than previously predicted and a result of the anticipated long-lasting effects of the COVID-19 downturn.
"Right now, China has a policy of bilateral engagement," he said. "They take advantage of the asymmetrical relationship" with many of their trading partners.
For example, China stopped accepting metallurgical coal shipments from Australia earlier this year and replaced them with shipments from Vancouver-based Teck Resources Ltd., where ambassador Barton once served as chairman.
"There should be an effort to try to establish some kind of common alliance for fair and reciprocal trade," Burton said.
Some say that Barton is far too inclined to look for ways to maximize trading opportunities with China.
Mulroney, the former ambassador, is among those who believe Canada needs to think "in much more realistic terms" about the risks from China.
"If you listen to Dominic Barton, China is opportunity," he said. "But if you listen to someone in the security world, China is a threat. The problem for Canada is we don't actually have a foreign policy on this."
Source: FINANCIAL POST