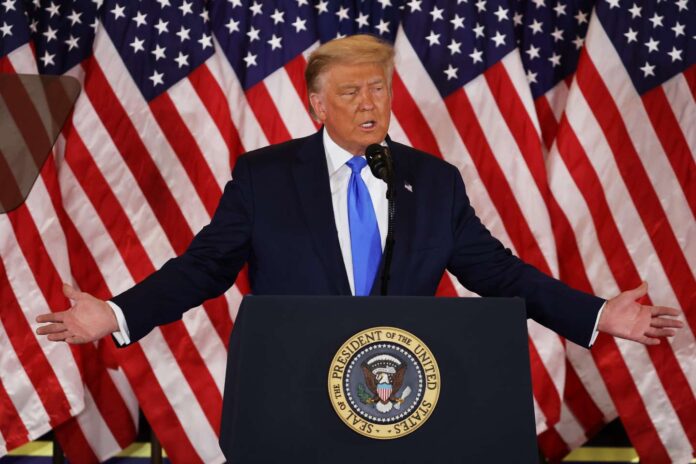 A day after the election, President Donald Trump escalated in a series of tweets his baseless claims of election fraud, despite a backlash from some of his supporters to his attempts to discredit the process.
Earlier on Wednesday, the Republican president called for vote counts to be stopped, saying that a "major fraud" was being committed and declaring victory in the election despite an ongoing count.
Trump tweeted: "Last night I was leading, often solidly, in many key States, in almost all instances Democrat run & controlled.
"Then, one by one, they started to magically disappear as surprise ballot dumps were counted. VERY STRANGE, and the 'pollsters' got it completely & historically wrong!
"How come every time they count Mail-In ballot dumps they are so devastating in their percentage and power of destruction?"
Vote counts are ongoing in several of the key states, including Wisconsin, Michigan, Pennsylvania, Nevada, and North Carolina.
Trump came under fire for prematurely claiming the win and alleging electoral fraud without any evidence. Democratic rival Joe Biden's campaign called Trump's comments "outrageous, unprecedented, and incorrect."
Jen O'Malley Dillion, Biden's campaign manager, said in a statement: "Never before in our history has a president of the United States sought to strip Americans of their voice in a national election.
"The counting will not stop. It will continue until every duly cast vote is counted. Because that is what our laws – the laws that protect every American's constitutional right to vote – require."
However, Trump supporters had also pushed back against his victory statement.
"I talk tonight now not as a former governor but as a former U.S. attorney," Chris Christie, the former Republican governor of New Jersey who voted early for Trump, said on ABC News.
"There's just no basis to make that argument tonight, there just isn't. All these votes have to be counted that are in now. I disagree with what he did tonight.
"I think by prematurely doing this, if there is a flaw in it later, he has undercut his own credibility in calling attention to that flaw."
The U.S. presidential election vote is currently hanging on a knife-edge, with no clear winner in sight and millions of votes still to be counted.
Biden was ahead of Trump in most national polls released in the month leading to the election, according to FiveThirtyEight data and RealClearPolitics, with betting odds largely in his favour last week.
However, the election is now closer than the polls had suggested, having underestimated the depth of support for Trump.
After polling stations closed on Tuesday night and votes started being counted, odds flipped in favour for Trump to win, as they did four years ago in his race against then-Democratic candidate Hillary Clinton.
Biden looks to be in the stronger position with votes left to count, but Trump still has paths to the White House left open.
Source: Newsweek