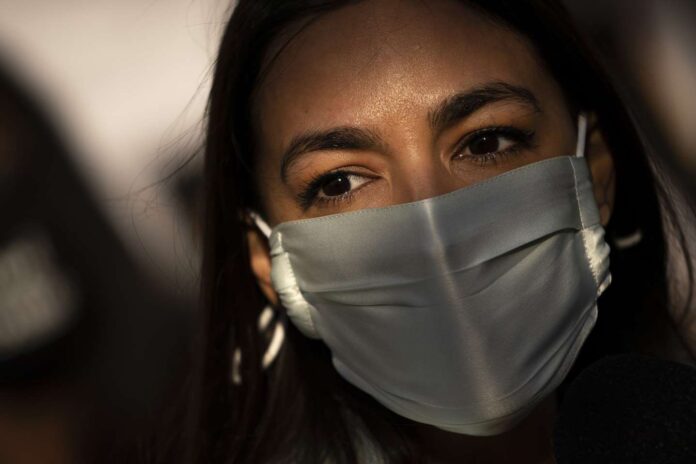 (Newsweek)Democratic Congresswoman Alexandria Ocasio-Cortez has blamed delay of a second stimulus check on Republicans, saying that they're demanding corporate COVID legal immunity to be included in the relief deal.
"If you want to know why COVID relief is tied up in Congress, one key reason is that Republicans are demanding legal immunity for corporations so they can expose their workers to COVID without repercussions," the progressive lawmaker tweeted on Tuesday afternoon. "Dems don't want you to die for a check. That's what we're fighting over."
Senate Majority Leader Mitch McConnell has made a "liability shield" for corporations a crucial demand in the stimulus negotiations that have been ongoing for five months with no deal in sight.
As America's COVID cases surge in the country's third wave, immunity from civil liability during these uncertain and dangerous times would not prevent harm or injury. Rather, it would shift some burden and costs onto the individual, away from businesses.
Eight months have passed since President Donald Trump signed the CARES ACT, and both sides of the political aisle blame each other for their inability to deliver relief to citizens struggling to pay for food and necessities.
Republicans have accused House Speaker Nancy Pelosi of using the pandemic to further her political agenda, while Democrats have condemned the GOP for refusing to allocate sufficient funds to address the economic fallout of the crisis.
On Monday, over 120 economists called for the federal government to provide recurring direct payments. In an open letter, they said that stimulus checks were an "essential tool" to mitigating poverty and boosting consumer spending.
President-elect Joe Biden has stressed the importance of reaching a deal by the end of 2020 and some Democrats in Congress have begun applying pressure on Pelosi to capitulate to Republicans' demands to get it done.
House Majority Leader Steny Hoyer on Friday urged party leaders to compromise for quick relief as the pandemic worsened. "I just hope that we can get agreement. It may not be everything that everybody wants but at least if we can get some significant relief to people," he told Roll Call. "And then we're going to be here next year. If we need to do other things, we'll do other things."
Pelosi has stood behind her insistence of a $2.2 trillion starting point, a figure significantly higher than McConnell's $500 billion position.
Democratic Senator Chris Coons doesn't think the GOP's offer is adequate, but encouraged Pelosi and Senate Minority Leader Chuck Schumer to prioritize the contents of the bill over the price tag. "I think we ought to be doing a broad package that provides support to small businesses through another round of PPP, to schools, to public health agencies to prepare for vaccine distribution," he said.
Related Articles