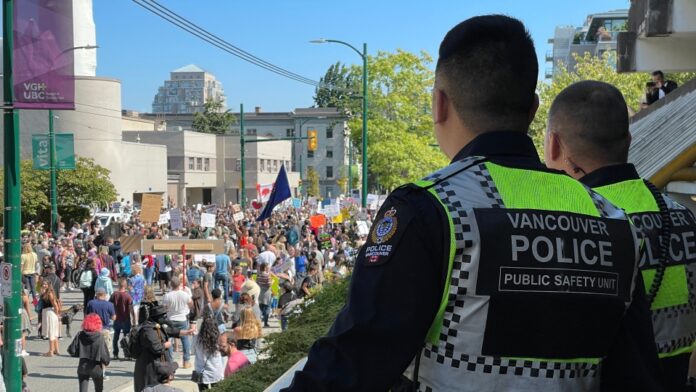 Thousands of people marched against vaccine requirements and COVID-19 restrictions in Vancouver and several other Canadian cities Wednesday.
A large crowd gathered outside Vancouver General Hospital at 1 p.m., then made its way to Vancouver City Hall and across the Cambie Bridge to Downtown Vancouver, causing traffic and transit delays.
The demonstrators, some carrying upside-down Canadian flags symbolic of a country in distress, were protesting vaccine requirements for health-care workers in long-term care homes, and vaccine passports needed to enter bars, restaurants, theatres, exercise classes and a range of other non-essential services.
This week, provincial government health officials said vaccine requirements could be extended to acute health-care workers as well.
The measures have been introduced as COVID-19 cases began an exponential surge in August, with hospitalizations also on the rise. The majority of cases and hospitalizations — nearly 90 per cent — have been in unvaccinated people or those with one dose, according to information released by provincial health officials this week.
Some protesters said it was wrong to impose vaccines and it should be a personal choice, and they also had concerns about safety.
Slava, who didn't want to give his last name, said it is his body and it should be his right to choose whether to have a vaccine or not.
"I don't want to put something in my body that can have a huge amount of side-effects," he said.
He also said the vaccine doesn't work.
When asked about scientific studies that show the vaccine provides protection from severe illness and death, and also can reduce transmissibility, he said, "probably" that's true. Slava said it still should be a personal choice, noting if older people want to get the vaccine, that's their right.
Vladislav Sobolev, who started a group called Everyone Is Essential to help small businesses fight back against restrictive COVID measures, said he supports people's right to choose whether to have a vaccine. He suggested the B.C. government's vaccine passport measures are illegal and force small businesses to do the government's "dirty work."
Another woman, who wouldn't give her name, said the vaccine passport is the beginning of medical apartheid.
Vancouver Mayor Kennedy Stewart took to Twitter to voice his unhappiness with the protesters, saying he is proud that more than 90 per cent of Vancouver residents have had at least one vaccine dose.
"So, when I see folks blocking health-care workers who are working flat-out to save people dying of COVID, it makes me sick," said Stewart.
In one video circulated on social media, an ambulance could be seen slowly making its way through protesters, which made way for the vehicle.
The protest resulted in "some slowdowns" as paramedics had to navigate clogged roads near VGH and St. Paul's Hospital, said a spokeswoman for B.C. Emergency Health Services. However, no ambulances had to be redirected.
Premier John Horgan also called the targeting of health-care workers at hospitals "completely unacceptable."
"Health-care workers have been true heroes throughout the COVID-19 pandemic, working long hours in difficult conditions to care for us, our loved ones and to keep our communities safe," said Horgan in a statement.
Police were at the scene monitoring the large gathering, which the department estimated at about 2,000 people.
Similar marches were held outside hospitals and health centres in Kelowna, Victoria, Nanaimo, Kamloops and across Canada.
The multi-city event — billed as a "World Wide Walkout" urging supporters to "stand-up for freedom" and "reject the tyranny of mandatory vaccines" — was organized by a group called Canadian Frontline Nurses.
One of its organizers, Ontario nurse Kristen Nagle, made headlines earlier this year for travelling to Washington, D.C., to speak at a rally opposing COVID health measures.
Source: VANCOUVER SUN