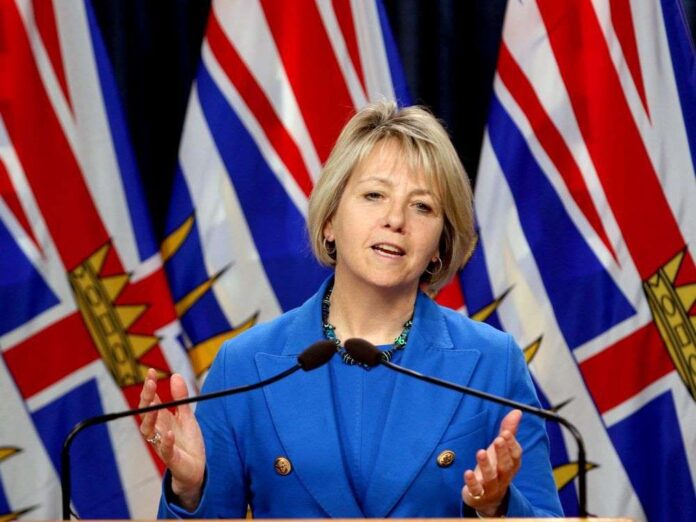 Beers or coffees after games have played a key transmission role in the roughly 4,400 cases of COVID-19 related to fitness and sports activity in B.C., the provincial health officer said on Thursday.
"I've said this many, many times; it's the locker-room, it's the before, it's the after, it's the going for a coffee or a beer after a game that has been the most source of transmission," Dr. Bonnie Henry said, adding that between 10 and 15 per cent of all transmissions in B.C. had been sports or fitness related.
Henry has expanded bans on high-intensity fitness classes like spin and hot yoga, to include all yoga and activities like tai chi and stretching.
She has also ruled out all adult sports and most fitness activities; including beer-league hockey and ultimate. This came a day after reporting that an old-timers team from the Interior Health region had travelled to Alberta and come back infected. This led to dozens of cases among family and workmates and has caused an outbreak in at least one long-term care facility.
Henry said activities like tennis, swimming and golf were OK.
There were 694 cases of COVID-19 reported between noon Wednesday and noon Thursday, and 12 deaths. Henry said there were 9,103 active cases of the disease in B.C., of which 325 were in hospital and 80 in intensive care. The death tally is now 481.
Henry said a COVID-19 vaccine would be available to select British Columbians on Jan. 1, and would be widely available by the end of 2021.
"As vaccines become available, they will be our first step to protect people from severe illness and death," she said. "But right now, we must use all of our layers of protection, combined with the orders and restrictions, to slow the spread and keep people safe."
The first vaccines to arrive in B.C. will be from Pfizer and Moderna. Henry said Canada was receiving six million doses in the first three months of 2021.
More Pfizer and Moderna vaccines, and potentially others from AstraZeneca and Johnson & Johnson, would be widely available in the fall and winter of 2021, Henry said.
An emergency operations coordinating committee has been formed to manage B.C.'s immunization response.
"We will not be able to broadly achieve what we've been calling "community immunity" or herd immunity, right off the bat. But that will come."
Health Minister Adrian Dix said that with 10,849 people in quarantine after being exposed to the disease, and record numbers in hospital, health-care workers were becoming exhausted. He said 80 per cent of hospital beds were in use and this time last year it was over 100 per cent. However, many long-term care workers had contracted COVID-19 putting pressure on staffing.
There are 58 active outbreaks in long-term care facilities and eight in hospital settings.
On Thursday, Fraser Health reported four residents and one staff member at Baillie House in Maple Ridge were sick, and two staff at Peace Arch Hospital Foundation Lodge — leading to outbreaks.
Source: VANCOUVER SUN