We're very thoroughly into the holiday season, and the closer we get to Christmas next week, the more people start wondering if there's a chance they'll wake up on Christmas morning to a coating of snow outdoors.
A white Christmas can be magical, but despite Canada's northern location, the chances of one are very hit-and-miss across the country, and location dependant. Parts of the west and northern Ontario, for example, are historically almost guaranteed a white Christmas, while the odds are much slimmer for B.C.'s South Coast and the Greater Toronto Area.
We peeked at the long-range snow forecast for each region, and here's how we think Canada's 2020 holiday snow chances will pan out.
Visit our Complete Guide to Winter 2021 for an in depth look at the Winter Forecast, Canada's ski season, and tips to plan for everything ahead!
BRITISH COLUMBIA
British Columbia's mountains and ski resorts have already had abundant snowfall thanks to multiple moisture-laden systems, but the Pacific influence has also kept temperatures mild, leading to little snow for the Interior valleys including Kelowna.
As for the South Coast, there's just about no hope: People there can expect a traditional green Christmas, including Vancouver and Victoria, with no signs of Arctic air making an appearance before the holiday.
PRAIRIES
While historically the Prairie provinces have the best chance of a white Christmas, the chances this year are mixed, and will largely depend on how much snow a given area already has in place as the storm track shifts north.
Some cities, like Calgary, already have sparse snow cover, which, coupled with periods of above-freezing temperatures, will make Christmas Day snow scarce. But Edmonton, Saskatoon, and Regina should maintain their snow cover through the holidays.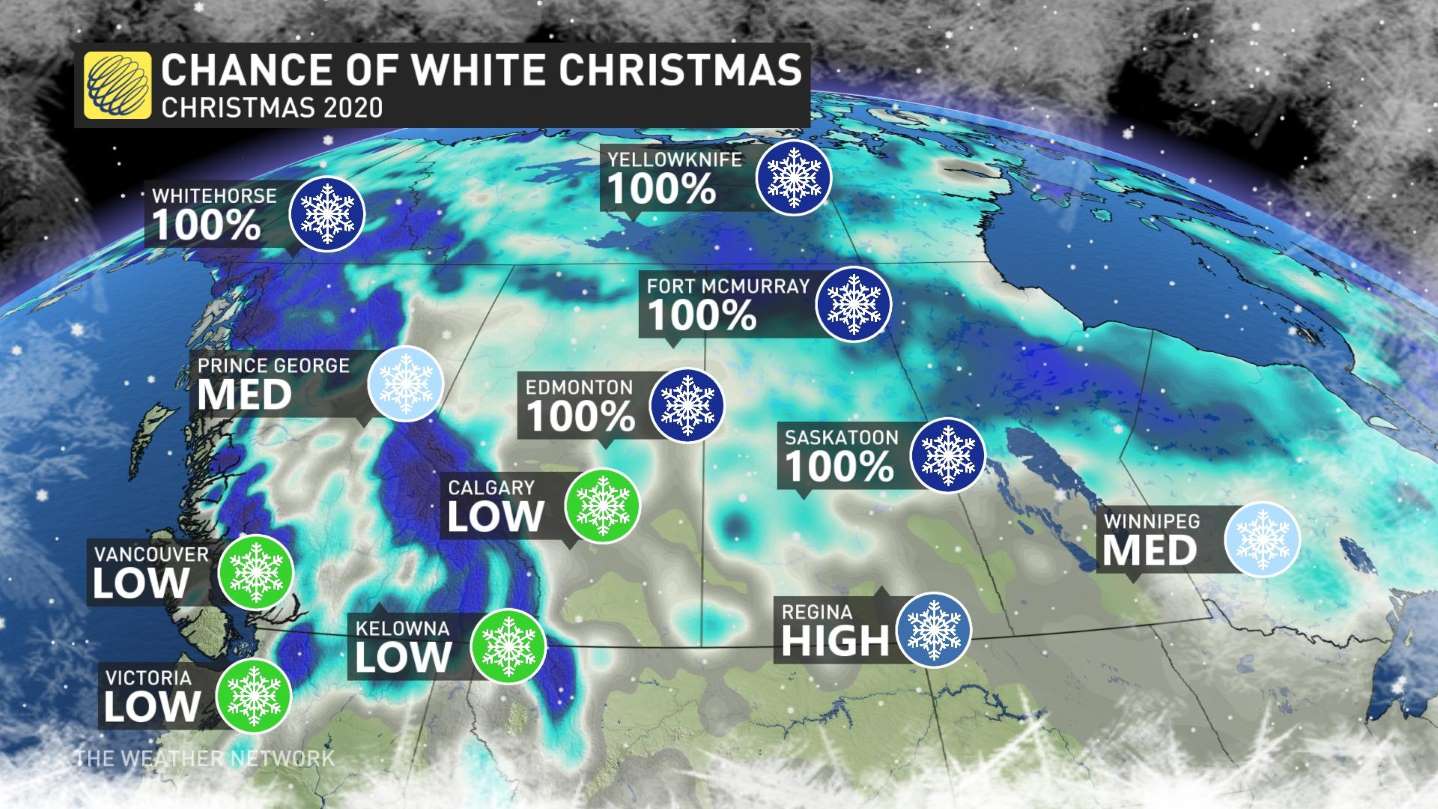 Forecasters are keeping an eye on a Pacific low that may bring a few fresh centimetres to Calgary, but will the snow stick as temperatures pop back above freezing?
SOUTHERN ONTARIO
Much of northern Ontario is in good shape, snow cover-wise, but much of southern Ontario, including the Greater Toronto Area, has a low chance of a white Christmas. Though there've been a few shots of snow this winter, milder temperatures have kept it from sticking around for most places outside the snow belts.
Though the odds are low, there's some faint hope: We are watching a system that could impact the province Christmas Eve and into Christmas Day, though it is too soon to say with certainty whether that storm will bring rain or snow – or even if it will arrive in time. Regardless of the timing, very cold air will filter in behind the system, bringing flurries and lake-effect snow potential.
QUEBEC AND EASTERN ONTARIO
This is where the chance for a white Christmas will really come down to the wire, as an upcoming mild pattern will erase much of the existing snow cover.
Leading into Christmas itself, a system will track through the region, which has a chance of bringing fresh accumulations, but we'll have to wait a while longer for more specific forecast details. As a result, Ottawa and Montreal have a medium chance of seeing a white Christmas.
ATLANTIC CANADA
The Atlantic provinces have felt the force of several wintry storms this season so far, but paired with an overall mild pattern that has kept persistent snow cover limited for most of the region.
Looking forward, we expect this mild pattern to continue, so most people can expect a green Christmas. The storm track will be active, however, bringing a few shots of precipitation, mostly as rain – including a storm system that will move through during the Christmas/Boxing Day holiday, leaving cold air in its wake.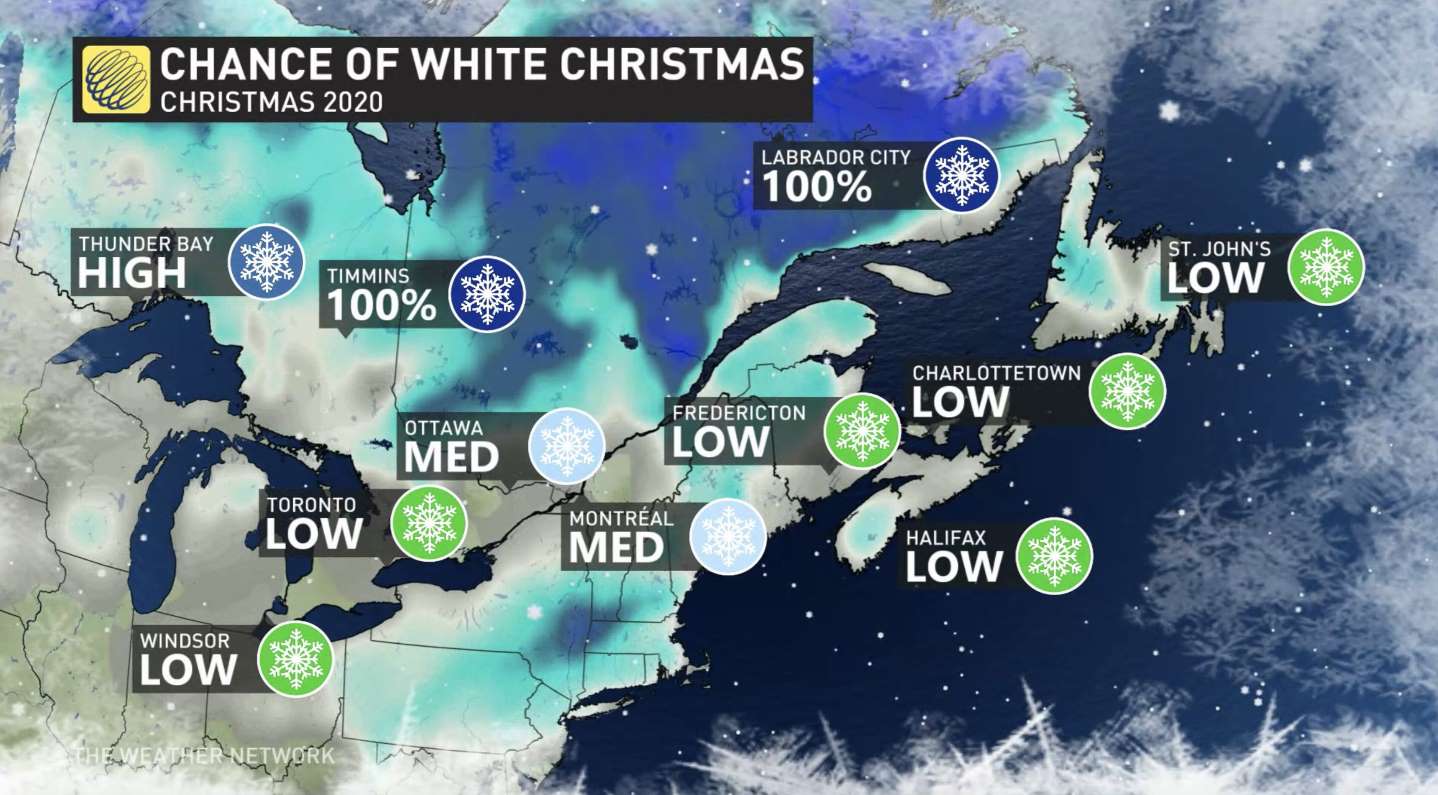 THE TERRITORIES
No concerns across this region, as abundant snow and Arctic air will make a white Christmas a lock for the territories, as usual.
Be sure to check back regularly as we continue to finetune the forecast!
Thumbnail photo by Liz, from Etobicoke, Ont.
The Weather Network